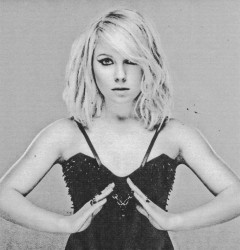 Good news: Little Boots' new single 'Every Night I Say A Prayer' was debuted on Radio 1 last night.
Bad news: It was only the Tensnake remix, although there is still quite a lot of song in that mix so you can make out what's going on pretty well.
Due to the unique way the BBC is funded, you can 'listen again' at this bit of the internet (although, again due to the unique way the BBC is funded, only until April 20). You'll need to skip to 1:09.
The proper version, a col­lab­or­a­tion with Andy out of Hercules & Love Affair, is out as a free download (WAHEY) and limited 12" (BOO) on April 21. It's a bit beefier and poppier than the remix, although it's not exactly 'Starships'.