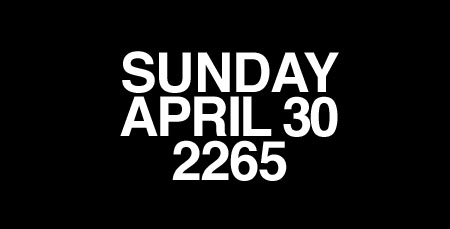 We trailed this last week and have been sitting on the incen­di­ary news
for a few days now, scared at what might happen when it is released
into the public domain, but the public have a right to know.
SUNDAY APRIL 30 2265 IS THE DAY EVERY MAN WOMAN AND CHILD IN THE UNITED KINGDOM WILL BE A SUGABABE.
This day of Mutyageddon may be more than two centuries away, but it is real.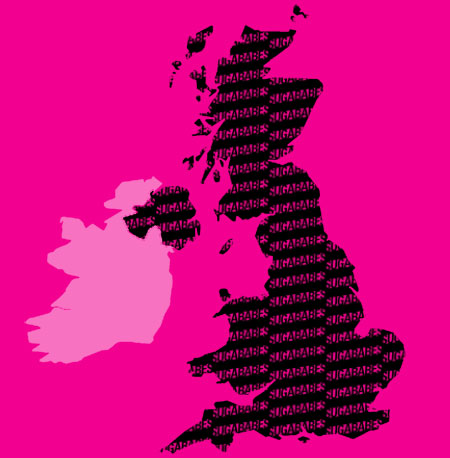 Very real indeed.
Our cal­cu­la­tion takes a few things into account: that instances of the three-piece Sugababes (or the total number of past or present Sugababes) double every 11 years, that newborn babies replace the deceased in existing Sugababes lineups, that pop­u­la­tion trends continue and so on.
It is a phe­nomenon we will refer to as Population Overload. Crushingly, the signs were there when the Sugababes released their first ever single, and it has taken until now for us to acknow­ledge the ramifications.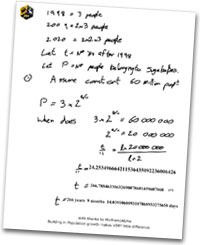 METHODOLOGY
We know that you might call some of our meth­od­o­logy into question but we're fairly confident with this pre­dic­tion because the date has been produced with the guidance of A PROPER MATHS TEACHER, Mr Smy, who is the 'Curriculum Leader for Maths' at John Bentley School in Wiltshire. (Thanks to everyone else from Twitter who offered to help out.)
Mr Smy even shows his working (right), which means he must be a proper maths person, right?
GLOBAL WARBLING: YOUR QUESTIONS ANSWERED

» This event is over 200 years away — can't we do anything to change it?
It is already too late. The best we can do now is prepare for the inev­it­able, to adapt our life­styles, and to educate our children in the hope that they, and our des­cend­ants, don't make similar mistakes.
» Can't I just move to another country?
That would be like moving away from the polar ice cap as it melted. Unfortunately, as its name suggests, global warbling is not a localised threat. Our cal­cu­la­tions suggest that by 2332 the entire pop­u­la­tion of Planet Earth will be a Sugababe.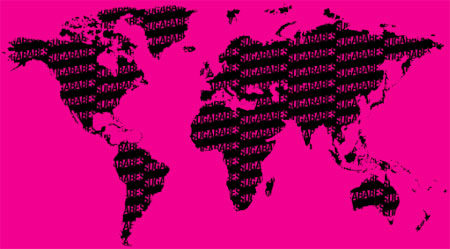 » Global warbling doesn't seem all that bad to me, won't it be nice to have a bit more singing?
A few extra Sugababes might seem like a nice idea right now, and in our lifetimes we may only live to see another sixty instances of the band, but the true effects of this will be felt by our children and their grand­chil­dren. The day of Mutyageddon is only eight gen­er­a­tions away in the UK, and ten gen­er­a­tions away for the entire planet.
» Which version of the Sugababes will be the best?
The 65,378,007th version of Sugababes will prove to be the band's defin­it­ive lineup, although by that point people will still be bickering about bloody Siobhan Donaghy on the Popjustice forums.
FURTHER INFORMATION
Please email [email protected] for more information.