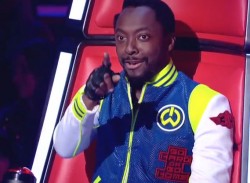 In news that has strangely made its way into The Sun on the day The Voice is broadcast, will.i.am is appar­ently in trouble because his omni­present baseball jacket (right) 'promotes' partially-unlisten­able single 'THE (The Hardest Ever)'.
The red patch thing you can see says 'GO HARD OR GO HOME' which of course is the simplistic life view put forward in the lyrics to will.i.am's recent single.
The Sun quote 'a BBC insider' saying: "This part of the show was filmed back in January and nobody knew these were the lyrics to Will's song."
Unfortunately this defence is bollocks, because the single was first unveiled in November last year.
Either way, it's a horrible jacket.