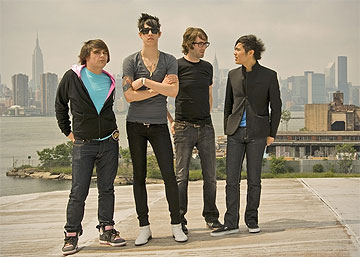 We're not sure if they would appre­ci­ate the com­par­ison but Metro Station are a sort of post-Killers, post-Fallout Boy, post-Shiny Toy Guns version of The Jonas Brothers; they're also a bit like The Click 5 with an American Apparel makeover. If you're in America you'll already know this because the band are something of a minor sensation on that side of the Atlantic; here in the UK, they're being launched at the start of 2009 with this single, followed by this one.
The singer is Miley Cyrus' brother — make of that what you will — but what really struck us when fans started emailing us links to the band's tracks and videos earlier this year is how good some of the songs are. Here is some stuff the label have just sent us which puts the band in a bit more context:
"Fronted by Trace Cyrus, son of Billy Ray and brother of teen sensation Miley Cyrus, Metro Station were Signed to Red Ink after an intern dis­covered them – where else?—on MySpace and recorded their album in New York City. Warped Tour veterans Motion City Soundtrack produced two tracks, "Kelsey" and "Comin' Around" off their debut album, and the band worked on the remaining tracks with cel­eb­rated producers Sam Hollander and Dave Katz (Gym Class Heroes, Boys Like Girls). They are also signed to Crush Management, following in the footsteps of bands like Fall Out Boy and Panic! At the Disco."
Blah blah blah. MySpace: http://www.myspace.com/metrostation.