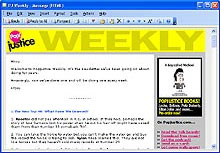 It is very good, you know. Click here to read this week's 'issue'.
If you didn't get it on Monday, you:
A) Haven't sub­scribed. Click here to sign up now.
B) Think you've sub­scribed, but haven't. If you've signed up in the last month or so you may not actually have registered. This is due to complete ineptitude on the part of Popjustice. Try again by clicking here.
C) Have an over-enthu­si­astic spam filter. Have a look in your junk mail folder to see if there is any Popjustice-esque amaz­ing­ness hiding in there somewhere.
D) Are simply not inter­ested and would like never to hear anything more about this ridicu­lous 'email' business ever again.
We do not like the sound of 'D' very much.