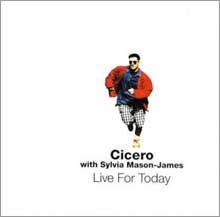 This person or group of people evidently have so little to do with their time that they're trawling pop's biggest back catalogue (probably) for bits they fancy putting on YouTube.
The video that caught our eye last week, after a Popjustice viewer emailed the link in with the sug­ges­tion that Lorraine cover the song IMMEDIATELY, is Cicero's Pet Shop Boys-produced 1992 track 'Love Is Everywhere'.
The song wasn't on Cicero's 'Future Boy' album but it was on the 'The Crying Game' OST, hence the fact that the video features a load of nonsense. The single bombed (in spite of being VERY AMAZING) and we'd never seen the video before. It's terrible of course but it's good to have seen it. We can 'cross that one off the list' and so on. Here is the video if you too would like a look.
We bet if they're putting stuff like this online from 'the archives', uni­ver­salmusic­group probably take requests. We will think of some other things we quite fancy seeing and get in touch.
PS: It's a bloke.