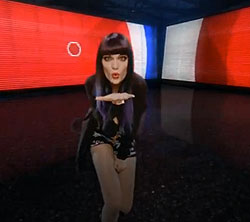 A few days old but worth noting: Capital FM have made another one of their amazing adverts featuring an assort­ment of various popstars, including a blonde-wigged Rihanna, plus Pixie Lott, Jessie J and JLS. (Capital FM) WARNING: also includes Ed Sheeran.

In 'col­lab­or­a­tions that no-one was par­tic­u­larly asking for' news, Shakira and Miley Cyrus might be 'joining forces' for a charity single called 'Love & Rock'. (Ace Showbiz)

'What Kind Of Fool (Heard All That Before)' hitmaker Kylie Minogue says that her alleged per­form­ance with Madonna is nothing more than a rumour. (Daily Mirror)

Harry from One Direction seems to think that flying to America will mean he somehow travels back in time. (Daily Star)

Ke$ha has been chatting about a variety of things, including how hearing Britney Spears sing her lyrics is "better than any drug" (she needs to try some better drugs) and that the goal for her next album is to resurrect rock music in her own, inim­it­able way. (MTV)

The-Dream has so far made around "$15 million" for writing Rihanna's 'Umbrella'. (Billlboard)

We can only presume that, like many of us, LA Reid spent too much time scoffing mince pies, Terry's Chocolate Oranges and turkey sand­wiches over the Christmas break, as he has just bought a gym mem­ber­ship. (Twitter) Sadly not with LA Fitness.

Here is pho­to­graph of everyone's favourite X Factor host Dermot O'Leary dressed up as Maggie Smith's character from Downtown Abbey, The Right Honourable Violet, Countess of Grantham. You don't even need to click through to know it's going to have been for Heat magazine, do you. (The Sun) What an absolute 'hoot'.

And finally, Example has been 'revealing' his tech­niques with women, which include wining and dining them at Pizza Express so he'll get recog­nised by the public ("there's a good chance she'll want to sleep with you after that") and writing poetry instead of buying expensive gifts. (Contactmusic) He notes "I'm good with rhyming words so I don't have to buy that many gifts; I'll just write a poem that takes maybe a minute". We don't know if he's serious about all this poetry business or if he's just larkin around.
THAT WAS some of THE NEWS.