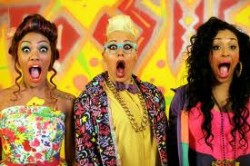 StooShe have launched a thing called 'Where's StooShe' which, among other things, lets you know where their 'Stooshbus' is.
According to a press release thing the "ground-breaking" app "allows fans to interact with Stooshe by using their GPS enabled mobile phone".
Users can "track the location of the infamous StooshBus as the girls tour around the UK", as well as "find the location of events and view a count down of the next live web chat with the trio" if they so choose.