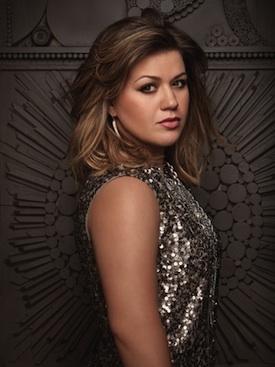 Coming off the back of her Super Bowl per­form­ance, Kelly Clarkson's amazing 'Stronger (What Doesn't Kill You)' has topped the Hot 100, giving Kelly her first US Number One since 'My Life Would Suck Without You'. (Entertainment Weekly) This is due to it being her best song since 'My Life Would Suck Without You', which we listened to at top whack in the Popjustice office yesterday to generally positive effect.

In 'col­lab­or­a­tions nobody was par­tic­u­larly asking for' news, Justin Bieber is appar­ently 'doing a Taio Cruz' by recording a duet with Ke$ha. (Ace Showbiz)

In case you missed it last night, Lady Gaga announced her first set of tour dates for the Born This Way Ball. (Billboard)

Gorillaz are back with a one-off single featuring André 3000 — it's called 'DoYaThing', and you can get the song (and pre­sum­ably some cool shoe shine) off Converse's website from February 23. (The Sun)

Labrinth has been 'teasing' possible col­lab­or­a­tions with Usher, John Legend and Busta Rhymes in his latest diary entry for The Huffington Post. (The Huffington Post)

Taylor Swift's video for new single 'Safe And Sound' will be having a "global, mul­ti­plat­form unveiling" next Monday night. (The New York Times)

Harry Styles of One Direction is appar­ently taking up Pilates classes to help with his dodgy back. (Capital FM) There is a punchline to this that redefines all known concepts of ROFL, but it is also slightly in bad taste so we will leave it out. :(

Although she was unable to swear after her vocal chord haem­or­rhage, Adele was happy to find a speech syn­thes­iser app which did it for her. (Daily Mail)

And finally, Marina & The Diamonds will be announ­cing details of her new single later today, and judging by his ever-so-subtle-tweeting Dr. Luke is involved in some capacity. (Twitter)
THAT WAS some of THE NEWS.