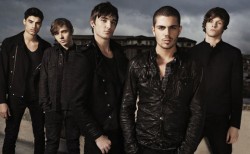 The Wanted will make their US TV debut next week, on The Ellen DeGeneres Show.
Max George tweeted the announce­ment: "Its official peeps,The Wanted are coming to the US in 2 days to perform on @TheEllenShow".
The all-singing, no-dancing boyband will perform a rendition of accordion euro­banger 'Glad You Came' which is picking up airplay on American radio. The appear­ance will also be a boost to their US tour starting in Orlando on January 17.
An incred­u­lous Jay McGuiness tweeted: "So, @TheEllenShow huh? How and when did THIS become my f*ckin' life?!"
The Wanted's appear­ance will be broadcast on Tuesday.