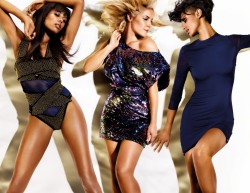 Sugababes — that's Amelle, Heidi and Jade in case you need a reminder — are set to return with a new single, 'Freedom'.
M Is For Music are reporting that the song will be premiered during their headline slot at the Mawazine Festival in Morocco on Sunday.
Jade wrote on her Twitter that she'd "Just had some lunch", but, more import­antly that she was just going back to rehears­ing (we hope she waited a bit so as to avoid indi­ges­tion) and that they were "doing our new track FREEDOM today! Yay…"
So there you go.