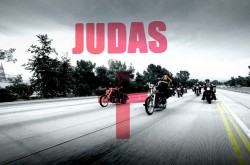 In an MTV interview with Nicola Roberts, Lady Gaga has explained what inspired her to write 'Judas'.
"I've had lots of ex-boy­friends betray me — assholes, we all have them — and in par­tic­u­lar there was one who loved Judas Priest," she said. "Originally, I began to write the song about an ex-lover, who betrayed me, who loved heavy metal music and then as I started to write the lyrics, I thought about Judas and the biblical implic­a­tions and how Judas was the betrayer."
"Once the song was finished and I thought about what I wanted to do with the video, in reality of the story of Judas, he didn't really betray Christ because he was part of the prophecy and Jesus knew that he would betray him – it was all part of the destiny of life.
"So I thought of a more beautiful and lib­er­at­ing way to tackle the message of the song – we attack the idea by saying my ex-boyfriend betrayed me and this person in my life haunts me but I forgive them and we'll move on to make room for what's good."
The full interview will be shown on MTV Music on May 23.