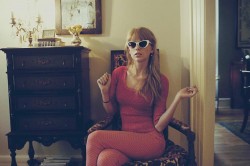 Taylor Swift has broken some sort of record after she was announced as songwriter/artist of the year for the sixth time by the Nashville Songwriters Association International, reports Billboard.
The award honours Nashville acts (ie singers with a vaguely country lilt) who have achieved Top 30 singles and seeing as Swifto 'scored' 812 of them between July 2012 and June 2013, she's the winner.
Her previous wins came in 2007, then 2009 and she's won every year since then, which is just showing off really.
All of the awards will be housed at the Taylor Swift Education Center, which opens on Saturday at the Country Music Hall of Fame and Museum in Nashville.