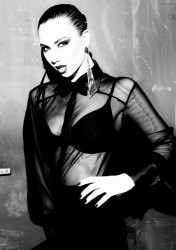 'A Moment In Love' hitmaker Queen of Hearts has put a 'sound­clash' version of one of her songs on the internet.
The snappily-titled 'No More ('Pass Out' sound­clash version)' is, as that would suggest, a 'mash-up' with Tinie Tempah's 'Pass Out' and is free to download from the player below.
It's certainly impress­ive that all the necessary clear­ances have been nego­ti­ated for use of Tinie's high profile track, so well done everyone.
Here it is.