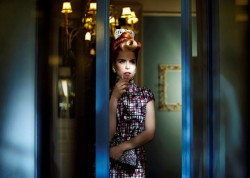 Paloma Faith has sen­sa­tion­ally claimed she had never pre­vi­ously met "friend" the singer from The Script prior to her appear­ance on The Voice.
Talking to the Evening Standard the 'My Legs Are Weak' chanteuse said: "They said we were friends but we had never met before."
"[The oppor­tun­ity] came through them con­tact­ing my people, who said, 'Do you want to do it?' And I said, 'Yeah, but can I say what I really feel?' But they just edited it out. I think I was maybe a bit too realistic."
Paloma's realism involved a lot of chat about how she doesn't "really believe in competing in art because it's sub­ject­ive, so some people think you're amazing but some people won't — all that kind of normal human stuff that they don't promote on that show".