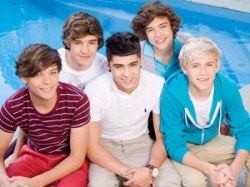 One Direction have signed a deal with textile business Character World to produce a range of home fur­nish­ings in time for the 'holiday season'.
One Direction fans buying their first home, or those who would otherwise have had Christmas ruined by a lack of fur­nish­ings, can breathe a sigh of relief that the X Factor boyband have con­sidered this and acted accordingly.
The line — which is set to include curtains, fleeces, cushions and towels — will arrive "just in time for Christmas" and follows the company's similar lines with Justin Bieber and Glee.
"We're all really pleased with the artwork our designers have created for the products", Character World's joint managing director John Schweiger said of the line. "They've captured the group's boyish charm. They are working on designs to expand the range at the moment."
One Direction's debut single 'What Makes You Beautiful' will be available to download from September 12.