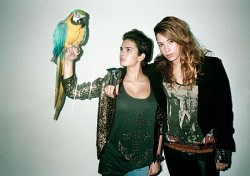 Oh My! have released a video of their cover of Tweet and Missy Elliot's 'Oops (Oh My)'.
The version of the song features Alex and Jade singing along to the backing of an acoustic guitar and does a nice job of 'show­cas­ing their vocals' (ie is com­pletely fucking boring).
It is a well-known POP FACT that the pair took their name from Tweet's worldwide hit about mas­turb­a­tion, so it is nice that they covered the song, thus com­plet­ing pop circle of life.