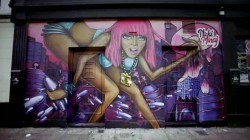 A tweet from ex-Mini Viva member Frankie Connolly just alerted us to a wonderful thing: a building in Finsbury Park, London, which has been graf­fit­ied in 'homage' to Nicki Minaj.
The piece is a riff on Nicki's look from the Super Bass video and shows her holding a pink frosted doughnut (which to our knowledge does not actually appear in the video).
It's been credited to graffiti artists Dep & Tyler, who also recently did this com­mis­sion to promote PJ Harvey's latest album.