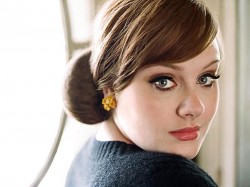 Adele has spoken out about her dislike of playing festivals, and arena shows, in the new issue of Q Magazine.
"I will not do festivals," she says. "The thought of an audience that big frightens the life out of me. I don't think the music would work either. It's all too slow."
Instead, Adele's plans for the summer revolve around getting drunk in a South London park with friends: "That's all I'll be doing — sitting in Brockwell Park with my friends, drinking cider."
And although Adele is booked to play three nights at the O2 Arena later this year, she has mixed feelings about playing such a large venue. "We had three nights on hold at the O2", she said, "and I was like, 'I won't play a festival. You think I'm gonna play a fucking arena? Are you out of your mind?' I'd rather play 12 years at the Barfly than one night at the O2!"
Good luck with that one Adele.