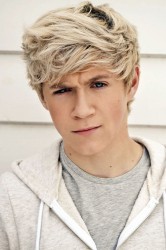 Justin Bieber has been playing late night visits to Niall Horan's London flat to 'jam' with the One Direction frontman.
Today's Metro claims that Bieber "decided it was time to try out some sweet music with the X Factor lads", which is certainly one way of putting it.
"We have a great time together," the 'Turn to You (Mother's Day Dedication)' singer reflected. "I went over to Niall's house yesterday. We were making a little jam session at three in the morning. Think we pissed people off a little bit."
Pissed people off, Biebs? How can something so beautiful be so wrong?
"There's people under­neath him," the gravel-voiced crooner continued. "We were playing really loud and all the sudden we hear "bang, bang, bang" on the door and this guy shouted "keep it down".
But that's not all. Bieber continued to describe his 'chess technique' in graphic detail. "I'm not into speedy chess," he explained. "I need to think. I can go slow."
Blimey.