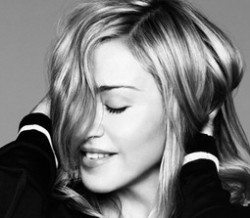 Madonna has admitted she's never heard of One Direction.
The 'Girl Gone Wild' hitmaker was stumped when asked about Niall and his band on ITV's 'Daybreak'.
"That's a pop group, right?" Madonna responded. "I haven't seen them yet, no, sorry. Slap my hand."
Perhaps she spends too much time party rocking with LMFAO in the club and/or waving guns around to keep track of the charts. That's fine.