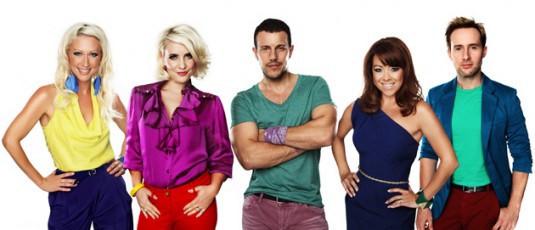 For all the sob stories, man­u­fac­tured drama and vocal show­boat­ing on display, the real appeal of reality tele­vi­sion is still those moments when we see somebody's dreams come true before our eyes. For that reason, it was pretty special watching Lisa Scott-Lee, a woman who endured the humi­li­ation of 'Totally Scott-Lee', singing a solo medley in front of 13,000 screaming fans at Sheffield's 'intimate' Motorpoint Arena last Saturday.
For me Lisa – per­mag­rin­ning, desperate, melo­dra­matic Lisa – really epi­tom­ises the magic of Steps. Here are just some of the ways she demon­strated this through the medium of pop performance.
1. For sheer, almost maniacal enthu­si­asm she simply cannot be beaten. Every time the camera cut to Scott-Lee she was throwing herself into the dance routines in a way that redefines 'giving it 110%'.
2. She gives excellent stage banter – inter­rupt­ing songs mid-note to enthu­si­ast­ic­ally squeak "CLAP YOUR HANDS!".
3. The furious fan action in 'It's The Way You Make Me Feel': while Claire and Faye waved theirs about half-heartedly, Lisa spent the entire song fanning herself as if she were a 17th century Spanish lady on the verge of a dramatic swoon (or the menopause).
4. All five members had a solo section, but only Lisa managed to crowbar in a solo 'hit'. 'Lately' was performed as a mash-up with Changed Man Chris Brown's 'Beautiful People' and Bryan Adams' 'Heaven', with Lisa pulling out every stop ima­gin­able – singing in front of a giant video screen and trans­form­ing into a giant disco butterfly for the climax. It was a genuinely amazing pop moment. Proving that great artists are never recog­nised in their own time, the largely female audience seemed to prefer Claire standing stock still and belting out a Celine Dion album track.
5. Despite the fact that she doesn't always come across as par­tic­u­larly likeable on the reunion show, Lisa has always seemed to be the only Step who truly, unre­servedly loves her job. The moment when she choked up while thanking the audience "for making my dreams come true" (SEE!) really was quite moving.
To give the group their due, all five members – even pantomime villain H – seemed genuinely thrilled to be back on stage, and their onstage banter felt relaxed and heartfelt, as opposed to the stilted patter from the days when their set list would include covers of the Ghostbusters theme. After a pretty run through 'When I Said Goodbye' – pre­vi­ously one of their weaker singles, now loaded with subtext – Claire declared "I love that one". For perhaps the first time in her career, it felt like she – and they – really meant it.