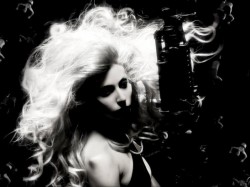 It might be one of the first signs of the apo­ca­lypse but according to a report, Lady Gaga was not the world's most popular music artist in the latter half of 2010.
The report, compiled by We Are Hunted, analysed 486,631 music articles and 16,063,656 music related tweets between July and December last year and has Gaga coming infourth behind Muse, Radiohead and The xx.
"At the height of her pop­ular­ity, Lady Gaga seemed to be every­where," says Stephen Phillips, co-founder of We Are Hunted, "but in reality, only 7 in 1,000 people were listening to her each day."
Katy Perry, Florence and the Machine, MGMT and Rihanna also featured on the list of the top 20 most popular artists, which also showed that despite everyone panicking about guitar music being over, it's still popular (on Twitter, at least) with 14 of the 20 positions being NME favourites.
To see the more detailed lists, click here.