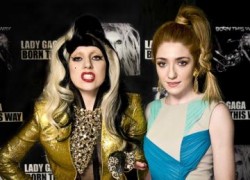 It has been revealed that Lady Gaga and Nicola Roberts' chat last week for MTV was not the first time the two popstars have met — in fact Nicola lent Gaga some tights back in 2009.
Says Gaga: "Last time we met was at the Brits. Actually you might not even know this, but you've given me a present once before."
"When I was very new — I was per­form­ing with the Pet Shop Boys and I needed pantyhose. I was knocking on Girls Aloud's door and you gave them to me. So thank you for my hose."
The two bonded further in the interview — which airs on MTV tonight at 9pm — over the Rocky Balboa movies. Lady Gaga's 'The Edge Of Glory' was appar­ently inspired not only by her grand­father but by the screen boxer. "The song is about looking life in the eye and when you die saying 'I won, I'm a champion' like Rocky sprinting to the top of the staircase."
'The Edge Of Glory' has also been announced by Gaga to be her next official single after its success as a 'teaser' single thing.