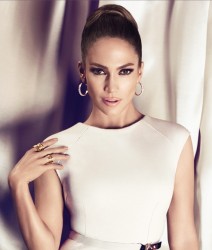 Jennifer Lopez confirmed the release of her new single on American Idol last night, report ThatGrapeJuice.net.
'Dance Again' will come out on March 30 with the premiere of the video recorded earlier this month coming on March 29.
As some indis­creet people on the set already bluttered out, J.Lo has brought Pitbull back like a Tonka truck to feature on the record and shout "Dalé" a bit.
'Dance Again' is rumoured to be the first single from a J.Lo greatest hits package.