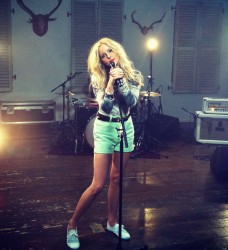 Diana Vickers has recorded a cover version of 'Dancing In The Moonlight'.
The track was reworked by Diana and emailed out as a 'special' 'gift' to her fans.
"I really like this song and I hope you enjoy listening to my version as much as I loved singing it," she declared.
'Fans' of Toploader will be dev­ast­ated to learn that Diana hasn't revived their and King Harvest's 'stalwart' of the same name but rather the 1977 Thin Lizzy song.
You can have a listen to the track here.