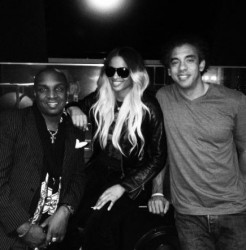 'No Air' and 'Turn Up The Music' producers The Underdogs have been recruited by Ciara for her new album.
Having been freshly signed to Epic Records, Ciara is currently working on her comeback record and tweeted this photo with the pro­duc­tion duo this afternoon.
She described the "energy" from Harvey Mason Jnr and Damon Thomas as "CCCRRAAZZY!".
Ciara's album already includes work with 'Lay It On Me' producer Hit-Boy, 'Love in This Club, Pt. II' hitmaker Soundz and 'Cockiness' twiddler Bangladesh.