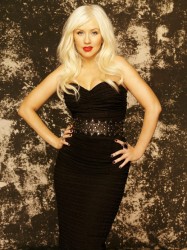 The pk-callout single from the 'Genie 2.0' hitmaker's forth­com­ing, bowel-emptying album will be released in August.
No word yet on whether the single itself will induce bowel movements, but a 'source' tells Billboard that the Max Martin-produced number has a chorus built around the lyric "all I want to do is what you wanted" and is a 'club banger'.
Meanwhile, in a move that will shock approx­im­ately nobody, Aguilera duets are 'in the pipeline' with fellow Voice judges Cee Lo Green and Blake Shelton.
Well there are some things to get varyingly excited about.