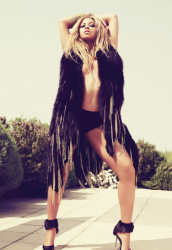 Beyoncé's announce­ment that she was 'with child' during her per­form­ance at August's MTV Video Music Awards was the most tweeted about event of 2011, reports Mashable.
The 'Run The World (Girls)' hitmaker rubbed her belly and said "I want you all to feel the love that's growing inside me" at the end of her per­form­ance of 'Love On Top', causing 8,868 tweets to be posted per second.
To put it into per­spect­ive, this is 5,000 more than the Royal Wedding generated and 3,000 more tweets per second than the death of Osama Bin Laden caused.
We don't really know what to do with this inform­a­tion to be honest.