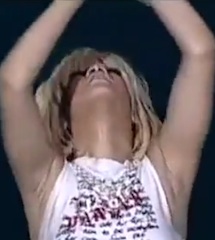 If you're worried about Rihanna and Coldplay's 'Princess Of China' not exactly setting the charts alight yet, fear not: they'll be per­form­ing it together at the Brits next year. (The Sun) Although 'appar­ently' Adele is going to be singing 'Someone Like You' again, so maybe the whole thing is bollocks, who knows? LET'S JUST GET CHRISTMAS OUT OF THE WAY FIRST, BLOODY HELL!

'No Boundaries' hitmaker Adam Lambert and Queen have been dis­cuss­ing plans to team up for some live shows. (Billboard) The full extent of 5ive's involve­ment has yet to be disclosed.

Instead of chucking any old rapper on it for an exciting 'remix', Katy Perry's latest single 'The One That Got Away' is being sold at a low price on US iTunes in a not-at-all cynical bid to help it climb the Hot 100. (Idolator)

Judging by this photo, it's fair to say that Britney Spears' free concert in Mexico City was quite well attended. (Twitter)

Kelly Clarkson has released a version of 'I'll Be Home For Christmas'. (Hollywood.com) It's a bit on the 'jazzy' side, regrettably.

Nicki Minaj, Florence & The Machine, and everyone's least-favourite party starters LMFAO will all be per­form­ing on this year's suc­cinctly-titled Dick Clark's New Year's Rockin' Eve With Ryan Seacrest show. (Entertainment Weekly)

Some people got a bit 'het up' with HMV setting up a pre-order for Amelia Lily's potential X Factor Winner's single yesterday. (Daily Mail)

Here is some early footage of JLS singing 'Shy Of The Cool' (OH GOD) when the group were called UFO. (Capital FM) It features some fairly intense leg rubbing from Marvin.

According to her 'leaked' rider, Adele is not a fan of American beer, but is a fan of "fun-zize" chocolate bars. (The Smoking Gun)

And finally, now that the remix album and entirely necessary (rubbish) Christmas EP are out of the way, Lady Gaga has begun working on her next album and knows what it's going to be called. (MTV) Who's ready for an under­whelm­ing New Year's Day announce­ment? WOOO!!!!!!
THAT WAS some of THE NEWS.