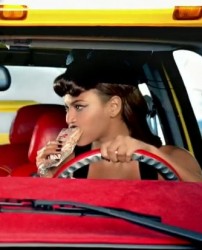 Beyoncé — who knows a thing or two about being in a suc­cess­ful band — wants to launch one of her own.
Speaking to The Huffington Post Beyoncé mused: "I want to create a boy band… I see so many male artists building these empires and passing their knowledge on to other artists. I see myself doing the same thing and hopefully other younger artists when they grow up and they have been around for 15, 20 years, they can do the same thing."
Meanwhile, having recently filmed videos for prac­tic­ally every song on '4' in the space of a week, she went on to suggest that she may direct for other people, saying: "I want to continue to produce and do doc­u­ment­ar­ies and music videos." She might need a bit of a sit down after this. She's pregnant you know. Not sure if it's been mentioned.