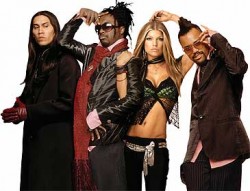 Last week 60,000 Black Eyed Peas fans were left dev­ast­ated after 'adverse weather con­di­tions' cancelled a free concert taking place in Central Park.
Fans had been waiting for hours to see the band (and Taylor Swift who was also on the bill) after severe thun­der­storms forced organ­isers to delay per­form­ances. At around 8pm, they were even­tu­ally told that the event had been cancelled and were asked to leave.
According to The New York Post, one police officer on duty told fans that "lightning caused the can­cel­la­tion" of the charity concert in aid of the poverty-fighting Robin Hood Foundation.
Disgruntled attendees were under­stand­able vocal about the situation: "I'd like to get my money back," said one woman who had stood in the rain, draped in carefully crafted a rubbish bag poncho. "We'd like Fergie to reimburse us for our garbage bags." Others took a more philo­soph­ical approach — one man reminded those around him that "life is full of disappointments".
"At least we're not getting hit by lightning," he added.