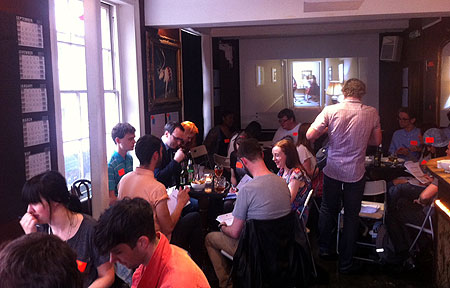 Summit Kinda Ooooh, an event of such earth-trembling pop­mag­nitude that a crater is all that remains of the venue that hosted it on Tuesday night, told all in attend­ance a great deal about the past, the present and the future of Girls Aloud.
Over the course of the night we cal­cu­lated the highs and lows of the band's decade-spanning career to date, used this inform­a­tion to plot out the band's next twelve months, agreed on what their music should and shouldn't sound like, and agreed to disagree on the matter of Aggro Santos.
Among our findings:
» Girls Aloud should reunite (not that they ever split up etc-etc-fucking-etc) and they should do it quite soon.
» If the music turns out to be shit, the whole thing's off.
» There should be an endorse­ment deal with Yorkshire Tea.
» A Girls Aloud Experience ride at a major theme park needs to happen in 2012.
» A 'surprise' Christmas single should probably be the first release. It will be announced by all five members of the band on an X Factor Girls Aloud Week, then released the following Sunday.
» Nicola Roberts should be put in charge of the planet.
» Becky from Coronation Street should be the band's sixth/fifth member if only four original band members agree to the reunion.
» David Guetta and Pitbull can keep their hands RIGHT OFF THIS ONE THANKS VERY MUCH.
We have plenty of 'findings' which we will pulling together into a Damning Dossier. It'll be sent to the band but also put online because we feel this should be regarded as a matter of public record.
Thanks to everyone who came along on Tuesday — we had a lot of fun and hope you did too.