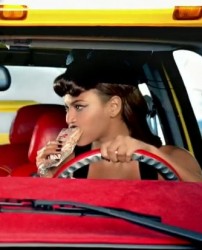 The Mirror has reported that Beyoncé is writing a soul food cookbook.
Beyoncé, who served Popeye's fried chicken at her wedding, has consulted Ms Goop herself, Gwyneth Paltrow, to help with strategising the release of the publication.
A 'source' tells of Tina Knowles' culinary prowess as an inspir­a­tion for Beyoncé's new project:."Tina always puts on a soul food spread of collard greens, cornbread, mac 'n' cheese and fried chicken," they say. "Bey would love to include these family recipes in a book."
Hopefully there will be a recipe for the delight­ful-looking patty that Beyoncé eats in the 'Telephone' video.
The Mirror have nicely pulled this story together with an extended metaphor about Beyoncé wanting to have a 'bun in the oven'.