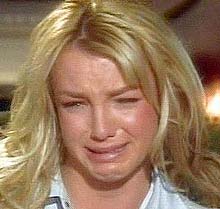 :: For those of you who might have been a bit worried, Britney is offi­cially NOT a lesbian. In fact she has met some new bloke. Apparently they 'romped' together for 12 hours, which sounds nice.
:: Victoria Newton has written something par­tic­u­larly spiteful about Nicola Roberts not having a big shiny American boyfriend like Nadine.
:: Leona Lewis has appar­ently signed a £5million record deal in America. "It's everything I've ever dreamed of," she says. Presumably she is just so happy for the chance to sing and etc etc etc.
:: Matt Willis reckons that he and Amy Winehouse are bad influ­ences on each other booze-wise. He may have a point.
:: Mika reckons he is desperate for a date, but shock­ingly has still not said whether he would like it to be with a man or a woman. Could the world of pop get any more risqué? Or is it just that he's straight and doesn't want to alienate the oh-we-love-the-gays housewife market? We may never know.
:: Simon Webbe is pleased not to be nominated for any Brit awards because he is happy with the rusty old ones he has from when he was in Blue.
:: Now that she is selling records all over the world, Lily Allen also enjoys watching inter­na­tional porn when she is abroad.
:: Girls Aloud have dressed up in school uniform for a Comic Relief thing with Gary Lineker and Russell Brand.
:: Kylie's ex boyfriend is selling a boat he bought for her. How nice.
:: Eminem is back with his ex-wife Kim again.
:: Alanis Morissette has broken up with her fiance. Isn't that exciting. Don't you think?
:: Amazingly, Pete Doherty's applic­a­tion for a gun licence has been declined by police.
Have a nice weekend,
PJ x