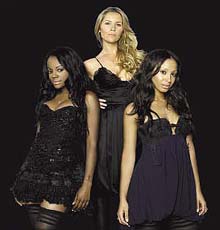 ::
You can listen to the b‑side to the new Sugababes single here. If you want.
:: There is a Lily Allen 'special' at Club Popjustice tonight with giveaways but more import­antly, bunting.
:: McFly are now stripping pro­fes­sion­ally, putting off trying for the indie market for a bit longer…
:: Madonna has been named the richest pop woman in the world. Well done her.
:: Girls Aloud have re-edited the 'Something Kinda Ooh' video. There is now a close up of Kimberley's gear stick. Here is the old one and here is the new one. Hmmm.
:: Ashlee Simpson followed through with threats to come and do Chicago in London :(
:: We did an interview with the All American Rejects this week. You can read it here.
:: Matt Willis is the latest pop person sup­posedly doing 'I'm A Celebrity…' along with every popstar from the past two years. He 'might' be joining Javine, Rachel and half of Liberty X in Kerry Katona's old hammock. We hope/expect this is bollocks and that Tony from Bad Boys Inc will end up making the cut instead.
:: We also spoke to LeToya, who was a woman in Destiny's Child for a short while. You can read that on Monday — the 'week of chart' for the album. Remember, the charts company do compile a Top 200.
Have a nice weekend! x