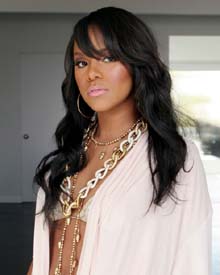 This is LeToya and she likes to eat. She likes to eat a lot. This is mostly an interview about how very much she likes to eat.
LeToya used to be in Destiny's Child until she wasn't. Then she was in another band called Anjel but that didn't work out either. Then she decided that perhaps she worked better alone and recorded an album without the hassle of having loads of other women on it.
This plan worked. Her album went to Number One in America and now she is going to release it in Britain. That is, if she can stop banging on about what she's just eaten, what she's about to eat and what she'd like to be eating.
Anyway, here are ten things LeToya thinks you should know about her…
1. She Knows How to Work A Till.
"I have my own shop, Lady Elle, and when I was at home before I started touring the album I was always working in my store. I can work the till and everything! I don't mind people turning up at the shop to meet me when I'm working either, even if there are loads of them. Honest."
2. She Wanted To Work With Timbaland. She Got His Mate Instead.
"I would have loved to get Timbaland on this album but he was too busy. I did get a chance to work with Walter Millsap who has worked with Timbaland before, so at least getting someone out of Tim's camp is better than no one. He did my second single 'She Don't'."

3. She Would Definitely Ride A Camel Into A Teenager's Birthday.
"If it needed to be done, I'd ride into someone's birthday on a camel. A sixteenth birthday is very important you know. There weren't any camels at my sixteenth birthday."
4. She Dreams About Food.
"The last thing I dreamt about was probably some food. I'm hungry. I always dream about food."
5. But She Has Just Eaten.
"I just had some chicken from Nandos, it filled me up but now I'm wanting more chicken."
6. She Doesn't Care What She Eats.
"I love eating, I will eat anything. I cook a mean spaghetti casserole with meat sauce and then put loads of cheese on top. This is just making me even more hungry by the way…"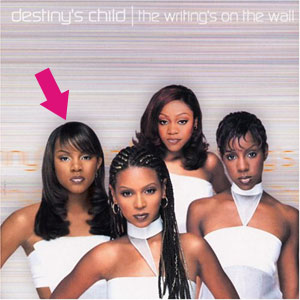 Happy Times: LeToya and some old losers…
7. She Is Still Happy To Talk About Beyonce.
"I know people are going to have questions because people didn't really get a chance to hear my side of the story when I left Destiny's Child and even though it's been six years they still want to know. It's kinda resur­faced and I'm like 'OK, let's move on' but at the same time I'm not rude so I want to answer their questions."
8. She's Has Foot 'Issues'.
"I really don't like the heels of my feet. They are always itching. I don't know why and I don't like it one bit."
9. She Won't Stop Talking About Dinner.
"I am a little greedy something and I know it doesn't seem like it to look at me, but I just love food. I love to eat. I don't bother with exercise, in fact I am trying to gain weight. It is very healthy to eat and regard­less of what you're trying to do in life if you're gonna diet, you have to do it healthily."
10. People Think She Is Not Very Good At Music.
"Someone else called me tone deaf once, they said that was the reason why they kicked me and LaTavia out of Destiny's Child. It feels good to have an album out now and that's something for someone who people have called tone deaf."
Well done LeToya. Here is one piece of inform­a­tion we think you should know about LeToya:
1. When she was little, she fell off her bike and into a bush.
So there you go.
*