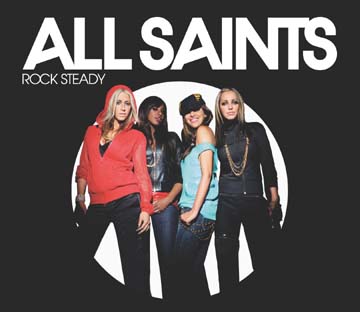 This is the cover for the new All Saints single. It is probably an exclusive but it's coming to something when you splash 'exclusive' all over a story about a bloody record sleeve.
You'd think, con­sid­er­ing they appear to have been caught under some sort of police search light, that Mel Blatt might at least not try to look so pleased with herself.
Here are ten things we whole­heartedly approve of with this sleeve.


1. Nobody is sitting down, adding extra mystery to the hitherto uncrack­able All Saints Code.
2. The logo bears more than a passing resemb­lance to the one the Love Bites used. So if nothing else, at least something good came out of that whole debacle.
3. Nicole and Shaznay appear to be wearing the same red top. Nicole must have won the ensuing 'scuffle' as Shaznay has had to keep a coat on over hers. It is good to see that the true spirit of All Saints is being kept alive.
4. To celebrate her victory, Nicole is wearing hers as much as possible. Hood and everything. Don't let her near Brent Cross!
5. It appears Shaznay is about to mutter something to Mel about the whole thing. Perhaps she already has and that is why Mel is so busy guffawing.
6. Natalie is the only one dressed in an appro­pri­ate fashion for espionage.
7. Both Appleton sisters are wearing looks of complete indif­fer­ence to the whole pho­toshoot 'exper­i­ence'.
8. During their time away, they all appear to have grown younger.They are now all roughly 22.
9. Mel, pull your straps up — this isn't a fashion show.
10. Those are diamonds on Nicole's wrist, not a beige 'sports band'. Sometimes truth really is stranger than fiction, viewers.
What more can we say about four women stood in a line?