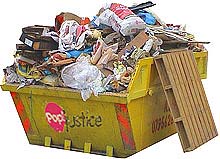 What has been going on in
the world of news?
» Like a baker bored of bread, Ne-Yo
is bored of R&B. (Billboard)
» Madonna
— she's got a new album out by the way — eats food. At night.
In a res­taur­ant. With her kids. (The
Sun)

» Justin
Timberlake has signed some kind of deal with some sports
company who say they will "represent all the pop
star's golf-related projects". How many does he
have? FORE!!! (Yahoo
Music)

» It's the story that keeps on giving: Dizzee
Rascal's not sure about Jay‑Z at Glastonbury either. (BBC)
» Girls Aloud will let funky music do talking at
Queen Victoria's old gaff on the Isle Of Wight. (BBC)

» Hey everyone it's 1996! Alabama 3 talk to Irvine
Welsh. (Guardian)
» 'And finally', Ashanti's back and she's got a knife,
although it's just in her new video and she says it has nothing
(NOTHING) to do with her ex-fella Nelly. (People)

Blimey.