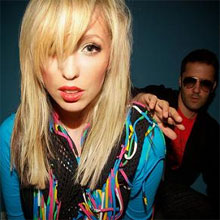 "

WE'RE JUST A POP BAND AND WE DIDN'T SET OUT TO BE ALL 'OOH LET'S BE INDIE'…"
Kating chats pop, punk and iPod ads…
With The Ting Tings sitting 'atop' the singles chart and with their debut album heading for Number One, we decided it was time to catch up with Katie White to find out what's been going on.
HOLD ON TO YOUR HATS.
Questions: Peter Robinson
Answers: Katie from the Ting Tings (obviously)
Hello Katie! How are you?
Well, I'm outside our glamorous hotel making someone from the inter­na­tional part of our record label wait while I talk to you. Then I have to have my makeup done and do an interview with a German magazine. But I'm good. We did a kung fu video yesterday for 'Shut Up And Let Me Go', our next single. I'm covered in bruises! They put me on wires and made me do backflips. I look like I've been battered by someone.
Is this the way record labels treat chart-topping artistes these days?
Well it was our idea so we can't even moan about it.
Are you, as they say, 'flushed with success'?
I still think it's weird. I'm over­whelmed but kind of laughing at it in a way – not in a cocky way but just because it's so surreal.
When you write a song like 'That's Not My Name' do you have a sit down and a cup of tea after­wards and think to yourself, 'well, that's a hit record'.
I loved it straight away but I felt like my judgement had been screwed because we went through our old band [Dear Eskiimo] and it all went wrong, so I thought 'what the hell do I know – I obviously don't have good ears'. But when we started playing it live it became quite electric and the hairs on my arms were standing up, and it felt like it had a lot of power behind it.
It's quite a clever record, isn't it. In that it takes ages to become really amazing.
It's basically quite an annoying record to start with but by the end it all fits into place. I don't know how we did it. It just happened. We thought nobody would want to work with us so we just messed around.
Obviously there were dark days when your previous band went tits up.
Oh yes. We went to a dark place.
Do you need a bit of darkness to write good pop? Happy people tend to lack originality.
That's com­pletely true, so we're going to be screwed for the second Ting Tings album. I think, as well, we've changed as people. When I first met you I was so carefree and bouncing around, but that was like two or three years ago. I don't know what happened but it just gave me a bit of a spike, I think. I realised that there's better looking girls but I'm alright if I put a bit of makeup on, and I haven't got the best voice but it's not shit either, and I just needed to find things about myself to make myself feel good. I had to look at myself – it sounds a bit spiritual but it's not – and go, 'right, what exactly am I saying?'. I was pottering around in my life, not really doing very much with it, relying on things I shouldn't have been relying on…
So when you looked deep inside yourself during those dark days, who was the woman you found?
(Guffaws) Well I just felt that I was a nice person without anything of any par­tic­u­lar interest about me… It might not have been true, I was just feeling uncon­fid­ent and shit and had just had a huge kick in the teeth from the lovely people at [Dear Eskiimo's label] Mercury.
So the next UK single and the current US single is 'Shut Up And Let Me Go', from the iPod advertisements?
Yes. It's weird because 'Great DJ' was starting to take off in America. Well, appar­ently. But it was being added to lots of radio stations, anyway. And now we've suddenly done a flip to 'Shut Up And Let Me Go'.
When you got the phonecall telling you that Apple were using your song did you think 'amazing, let's go shopping'?
Haha, 'let's go shopping'… Well what happened was that we played at SXSW and we were doing three gigs a day and I was exhausted, and I actually fainted before we were due to play for the Apple people. I managed to play three songs, then we heard that they were inter­ested in using the song and they sent a contract through. But we weren't sure if they were sending it to twenty different bands, or just to us, or whatever. We only found out we were on the advert­ise­ment when we saw the ad on YouTube, after it had been on TV! Apparently it comes right down to Steve Jobs deciding, on the day, that he wants it on his TV ad. But until we saw it on YouTube we thought we'd lost it.
Are you still going to be doing handmade records when you're mul­ti­plat­inum artists? Drawing little faces on 600,000 album sleeves? Have you thought this through?
I think we need to keep it limited, but we're a long way away from being mul­ti­plat­inum! You can't make that amount of records by hand. We want to start making our stage show quite creative. We don't want to just rent in a load of session musicians and have a rubbish light show behind us – when we get to a certain level we're going to be really big and dramatic but still have a personal touch to what we do.
You cannot go wrong with a bit of the personal touch.
No. Also, we've found that the more honest we are, the better things go. If you try and be really cool or try and be something else, you're doing it wrong. If we go, 'you know what, we fucked this up, that's shit', whatever, people connect with that a lot more and we feel like we can sleep at night.
Should Mercury Records be fucked off that they let you go when you were Dear Eskiimo, or should they not kick them­selves too much because you were quite a different band at that point and only became The Ting Tings because Mercury dropped you, meaning that it would have been impossible for Mercury to actually have The Ting Tings on their label?
I think that we weren't as good a band in Dear Eskiimo, and I wasn't as confident or focused or self assured. And I think Jules would say the same. I think the problem I have is that they just dropped us over the phone. For all they know we could have had ten huge hits in our studio. So it was a bit stupid of them not to meet up with us before they dropped us, but it was a blessing in disguise because it gave us a little chip on our shoulder and that's what we needed.
How did the change in sound take place?
What it was, I started getting into bands like Gossip, and at Islington Mills there were loads of really cool lesbian club nights. They'd play stuff like Le Tigre and I'd grown up listening to Take That, so I suppose what happened was that I got into bands like Gossip, tried to sound like them, failed because I came from a pop back­ground, and ended up landing somewhere in the middle. I aspired to be a punky artist but I'm such a pophead that I just couldn't.
So are The Ting Tings a pop group pre­tend­ing to be an indie band, an indie band pre­tend­ing to be a pop group, or just two people making some music which just so happens to be quite good?
I think we're a pop band but for some reason – and we really didn't set out to orches­trate it – the cool brigade got involved and decided we were cool. We keep telling them we're not, but they've decided we're cool. We're not! We're just a pop band and we didn't set out to be all 'ooh let's be indie' and the only reason we were doing things like making our little runs of 500 7"s was that we had to! But I agree that there is an indie aesthetic to us because of the handmade records and things, and we like writing our songs and that sort of thing. But the sound of it is pure pop. Well, hopefully.

Thank you very much, Katie Ting Ting.
*