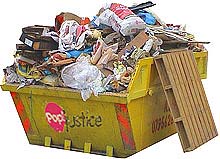 What has been going on in the world of news?
» Two swings: Madonna and Robyn. Two round­abouts: Scouting For Girls and 'The Pigeon Detectives'. It's the Radio 1 Big Weekend bill… (NME)
» Liam Fray is adamant that The Courteeners are not shit. (The Guardian)
» Amy Winehouse and Klaxons might win prizes for some songs they wrote three years ago. (The Guardian)
» Robbie Williams is still strug­gling to come to terms with the fact that no one bought 'Rudebox'. (Music News)
» The existence of Lily Allen's new songs makes this story about her twirling for the pleasure of an 80-year-old man seem even more unlikely. (Yahoo)
» Madonna plans yet another free concert — this time in New York, not Maidstone. This is very nice con­sid­er­ing she doesn't have anything to promote at the moment. (Undercover)
Blimey.