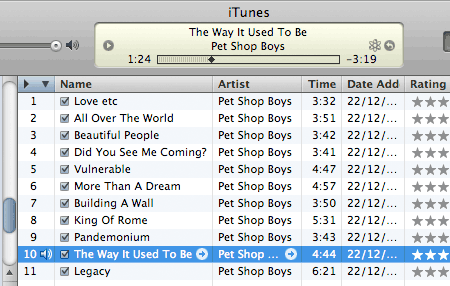 Right so we've had 'Yes' on rotation for a few weeks now and have, of course, listened to it so much that we have lost any of the sense of per­spect­ive you, the reader, might have found useful in the context of a 'review'. SORRY. Anyway as you know by now this album is 'Yesterday When I Was Mad' hitmakers Pet Shop Boys working alonside Xenomania, the pro­duc­tion team behind hits for Frank and Texas. As well as producing 'Yes' in it entirety, Xenomania also have writing credits on a few of the songs.
TWO THINGS WE ALREADY KNOW:
1. Pet Shop Boys have, his­tor­ic­ally, been quite good.
2. Xenomania have, his­tor­ic­ally, been quite quite good.
There was a danger here that the collision of two quite good groups of people could have resulted in something very, very terrible indeed — who can forget the harrowing 'Walk This Way' incident of March 2007? — but the good news is that 'Yes' doesn't find the Pet Shop Boys subjected to the clat­ter­ing, bells and whistles, hen-party-falling-off-a-fire-escape pro­duc­tion sound Xenomania sometimes favour, incred­ible as that would have been. Instead, this is still very much a Pet Shop Boys
album. It's not, in other words, the sixth Girls Aloud album with Neil
singing. It's the happy sort of col­lab­or­a­tion which seems to thrive on an exchange of ideas and attitudes. The warm, down­played backbeat of 'King Of Rome', for example, is proper PSB, while the sound and structure of a song
like 'More Than A Dream' (with its surprise "driving through the night, just you and me" second chorus) is a great example of the Xenomania influence.
TWO BITS IN 'BUILDING A WALL' WHERE CHRIS LOWE HAS A BIT OF A SING-SONG:
(Well it's not proper singing but you know what we mean.)
1. In the middle eight. It goes into a spooky spoken word thing with birds tweeting and Neil banging on about sand in sand­wiches, then Chris pops up and says "who do you think you are, Captain Britain?". Unfortunately it ruins the song com­pletely SONGSPOILER FOLLOWS if you swap 'Britain' for 'Birdseye'.
2. There is a sort of call and response thing with Neil and Chris which kicks the song off and also works as a bridge in the second verse. Neil: "Protection!" Chris: "Prevention!" Neil: "Detection!" Chris: "Detention!" Neil: "There's nowhere to defect to any more!" (Ooh — political.)
You usually want to steer clear of people throwing the phrase 'return to form' around the place but 'Yes' certainly takes us back to the feel of a Pet Shop Boys most fans — and most record buyers — first fell in love with. In terms of song­writ­ing quality it builds on the revived drive evident in 'Fundamental'. Not only that but where 'Fundamental''s pro­duc­tion sometimes dragged songs in the direction of THE ELDERLY 'Yes' has a youthful spring in its step with sparky pro­duc­tion, modern ideas and optim­istic outlooks. Songs like 'Pandemonium' and 'Did You See Me Coming?' — which kicks off like a long lost track from the first Electronic album — are up there with 'i Wouldn't Normally Do This Kind Of Thing' and 'Liberation' in the happiness stakes.
THE THREE BEST SONGS ON THIS ALBUM:
1. 'The Way It Used To Be'. (A bleak 'n' pulsating ballad-that's‑not whose lyrics start with a simple "I'm here, you're there — come closer, tonight I'm lonely" then go on to pick apart an empty rela­tion­ship. Structurally but not sonically it's a bit of a 'Biology' — it relent­lessly drives through a series of different segments, doesn't have a chorus and builds to an incred­ible climax but does this in a really unself­con­scious way. It's hypnotic, atmo­spheric, almost danceable but also very very sad.)
2. 'All Over The World'. (This should be the second single and should in fact have been the first — it's a mid-tempo but euphoric cel­eb­ra­tion of music and love with irres­ist­ible handclap action, a Tchaikovsky sample and a "this is a song about boys and girls — you hear it playing all over the world" chorus.)
3. 'Pandemonium'. (Hints of 'Starman' and 'Knock On Wood' to a Glitter beat but spookily, at the same time, none of the above. It's a song about your partner causing mayhem whenever they turn up but being quite loveable non­ethe­less: "I thought I was shock­proof until I saw what you get up to — when you think about it it's quite an achieve­ment that after all I still love you". Neil will probably do his palms-to-the-heavens hand thing quite a lot when he does this live.
If you're inter­ested in tempo, you might like to know that 'Yes' features four uptempo songs, two proper ballads and five midtempo songs
although two of the mid-tempo songs sound up-tempo when in fact they're
not. The single, 'Love Etc', is a bit of an odd one. (FYI the best bit in 'Love Etc' is offi­cially when Neil goes "OH!" before the chorus, like when Kylie goes "OH!" in 'In My Arms'.)
THE TWO WORST SONGS ON THIS ALBUM:
1. 'Beautiful People'. (This has a harmonica on it and is a bit of an ill-advised explor­a­tion of a sort of 'sixties sound' — it's about wanting to be a part of an exciting scene. "I wanna live like beautful people, give like beautiful people, with my beautiful people around," and so on. It would make a good b‑side, or 'iTunes bonus track bundle song' or whatever we're supposed to call them in 2009.)
2. 'Legacy'. (It's all over the show and actually includes the line "that Carphone Warehouse boy has been on the phone, he wants to upgrade the mobile you own".) (???!!)
Will this album win the band new fans? Will it win back old fans? Is
the Xenomania con­nec­tion somehow a route for Neil and Chris into iTunes
playlists of 14-year-old girls? That's all down to the Brits per­form­ance, really. Ignoring what other people might think of it and con­cen­trat­ing on how it sounds to these ears, 'Yes' is a big, happy, sad, modern-sounding proper pop album. We've been hammering it over the last three weeks and we think you'll want to do the same when it's released in March. Basically, it's better than 'Disco 2'.
EDIT: Stop emailing! The album's brilliant — we have used the phrases 'quite good' and 'better than Disco 2' for hilarious comic effect.