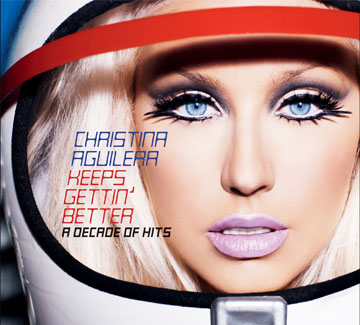 There's been some debate about whether or not there will be a video for Christina Aguilera's new single, 'Keeps Gettin' Better', but we saw a rough cut of the video yesterday so there will def­in­itely be one. The video's not finished yet but there's still well over one week before the single's released so there's plenty of time.
In the edit we saw there was still a lot of green screen business waiting to having excite­ment thrown on top of it but the 'concept' of the video finds Christina by herself in an empty room. She is at a massive edit suite pressing various amazing flashing buttons. She is — and this viewers of a video­graphic wheel within a video­graphic wheel — editing her own video.
Best bits:
» Christina as Catwoman
» Christina in a top MADE OUT OF A GLITTER BALL
» Christina riding a massive chopper*
Of course it's not a real rep­res­ent­a­tion of a genuine pop video edit scenario because the whole thing isn't populated by runners on £0.55 an hour and there aren't massive lines of cocaine being hoofed up every ten minutes, but the video's a riot of costume changes, makeovers, multiple 'scenarios' and Christina even seems to look like she's having fun. We'd sort of forgotten the single was even coming out, but the video makes it all seem quite exciting.
In other news, the 'Keeps Gettin' Better — A Decade Of Hits' album features re-recorded versions of 'Genie In A Bottle' and 'Beautiful' (alongside the original versions) — here is a dodgy YouTube clip of the new 'Genie…'.
* By this we mean she is on a pedal bike, not strad­dling a huge cock