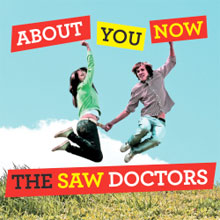 Today's Song Of The Day is Irish rock pen­sion­ers The Saw Doctors' cover of Sugababes' 'About You Now'.
IT IS CURRENTLY NUMBER ONE IN IRELAND.
As we say in our Song Of The Day waffle there's something about a load of old duffers singing this song which casts new light on the lyrics. We're not sure whether the Saw Doctors version is a pisstake or not — we'd like to think they've simply iden­ti­fied and iden­ti­fied with the plain, human message at the heart of it — but even after all this time, the more we listen to 'About You Now' the more we fall in love with it.
James2009 on the Popjustice forums feels the same way — the other day he was moved to resurrect a four-month-old thread on the song to post this simple message: "This song really is (IMHO) one of the best pop songs ever. I fucking love it with all my heart". James, you are quite correct, and if it's not one of the best pop songs ever then it's certainly in Cathy Dennis' Top 3. With moments like this Saw Doctors cover, and the various other covers, and the Hollyoaks appear­ance that sent the song back into the charts a couple of months ago (it's on YouTube: 'Hollyoaks ‑sugababes About you now very sad') 'About You Now' is becoming something of a modern standard.
Anyway here is the video for the Saw Doctors version.
httpv://www.youtube.com/watch?v=7A5JvfvoFt4

If you don't like it you are wrong. There is an Irish person in our office. He is 29 (30) years old. We have just asked his opinion of The Saw Doctors and the verdict is: "they are good". So that's that sorted.