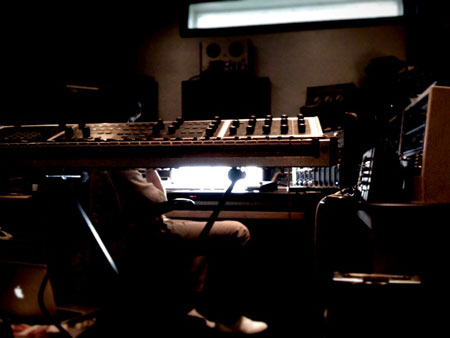 Here's a photo of Mark Ronson picking which songs from his new album 'Record Collection' to play us in what can only be described as a private playback scenario.
When did this happen?
Last Tuesday morning.
Where did this happen?
In a studio in Battersea. It's the one in which he's been recording the Duran Duran album.
What was Mark Ronson wearing?
A STRIPEY SUIT.
In the end Mark decided that the best course of action would be to play us the songs he thought we'd like. It's hard to explain exactly what we were expecting before­hand, but we did feel that 'Record Collection' would need to be a massive departure from the signature sound of 'Version' in order for Mark not to get laughed out of pop, and the tracks that had already been offi­cially issued, namely 'Bang Bang Bang' and 'Circuit Breaker', suggested that the album would have quite a lot in common with Mark's even earlier stuff. Well we got a bit of a surprise — Mark played us six tracks and, between them, they threw up some EXTREME POP MOMENTS.
The first song we heard was 'Somebody To Love Me'. Boy George provides lead vocals on this track, and it's an incred­ible per­form­ance, although the song itself involves a cast of thousands with Jake Shears and Cathy Dennis both con­trib­ut­ing to an early version of the tune. To start off with it was a called 'Amnesian Holiday', and was about Hedonism-style vacations, but that idea was binned off. K'Naan got involved, but that didn't quite work. Then Andrew Wyatt and Alex Greenwald appeared on the scene. This pro­lif­er­a­tion of pop personnel would usually spell disaster but somewhere at the heart of all this something started to make sense; Mark said that the turning point came when they realised they were "just trying to write 'Do You Really Want To Hurt Me?' 2010", so they asked Boy George if he was inter­ested in getting involved. It's on a bit of a Yeasayer/Vampire Weekend rhythmic tip with ratatat drums, steel bands, surf guitar 'aplenty' and a bril­liantly romantic, lilting pro­duc­tion sound. It doesn't sound like Mark Ronson, Cathy Dennis or Scissor Sisters but it does sound a bit like Culture Club and a lot like an anthem-in-waiting. There's a really great "over and over, is this really over?" line that leads into a chorus of "I don't wanna see you go, I want somebody to love me. Why'd it take so long to know, I want somebody to love me. I want somebody to be nice, to see the boy I once was in my eyes, nobody's gonna take my life". Cathy Dennis appears on backing vocals. (Amazing.)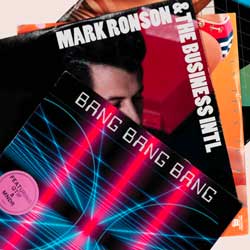 Another key tune is the album's title track, which is one for which Nick Hodgson from Kaiser Chiefs wrote the topline. Mark describes the song as a bit of a modern take on 'Dedicated Follower Of Fashion' and suspects that Nick wrote the lyrics taking the piss out of him. Nick denies this. "I think, sub­con­sciously, that's what he was doing," Mark says. It is, in a nutshell, a song about a popstar twat for whom things go a bit tits up. It starts off with Mark's vocal ("I drive round cities in a chariot, I get pref­er­en­tial treatment at the Marriott" — a winning lyric in our book), then Simon Le Bon appears for a massive chorus of "I'll tell you what it is on my mind, I only want to be in your record col­lec­tion, and I'll do anything it takes just to get there". Wiley appears for a rap, then there's another verse in which it all goes bit 'Leader Of The Pack'. While Mark was playing this Simon Le Bon actually walked into the studio and sat down next to us, an amusing touch which ended in disaster when we stood on his foot on the way out.
The other Cathy Dennis song is an electro pop tune called 'Taste Of The Samurai', which is sung by Gerina Di Marco, while a tune written by Kai from Mystery Jets is vocaled by ex-Pipettes warbler Rose Elinor Dougall in full-on Sophie Ellis-Bextor mode, with an appear­ance from Theophilus London, and is a thing of actual beauty and wonder. Chorus: "I found my heart it's, it's beating next to you, without a single word between us, between us." It's such a bril­liantly lovely pop tune. Mark explained that "there are lot of Abba vibes going on with this album. We listened to a lot of Abba, Daft Punk, Jean Michel Jarre and Hot Butter".
Mark then played two songs written with Jonathan from The Drums, one of which Mark fronts, another of which features Andrew Wyatt and Rose Elinor Dougall. In the latter Andrew takes the first verse then Rose takes the second then both singers take the middle eight so it's a proper duet. There's a brilliant bridge of "and if you loved me you never showed me (you've got some things to figure out), and if you loved me you never told me (I've got some things to tell you 'bout)", then a big "you're not my baby, 'cos you give me nothing to hold on to" chorus. It's a dark and atmo­spheric, very British sounding pop tune remin­is­cent of Goldfrapp and Human League with some heavy synth riffs and general top quality tuneage. The other song from the Drums fella is called 'Lose It (In The End)' — it features Ghostface and you can actually listen to it here so you don't really need any long-winded explan­a­tion from us. Of the songs Mark played us it's the one which most feels like a bridge between the last album and this one.
Mark said that his new umbrella moniker — this album's coming out as Mark Ronson & The Business Intl — was partly to save the album from having "a star­fuck­ery track­list­ing" but it does also make a lot of sense that the per­formers assembled for this album should exist as a named col­lect­ive, because these songs do make sense together, and it does feel like a group.
Towards the end of our visit — before we fell over Simon Le Bon — Mark said something that we found quite inter­est­ing: "there's music here that I didn't know how to make a year ago". Duran Duran seemingly played a big part in all this, in that after two months' intense
Duran work­shop­ping Mark went on eBay and got himself some new old
synths, but 'Record Collection' does feel like a natural extension of Mark's first two albums rather than any kneejerk decision to 'go electro'.
"It's better than I thought it could be," Mark said at one point. Well, it's better than — and very different from — what we were expecting, too. Mark only played us the songs he thought were up Popjustice's alley and there is
the pos­sib­il­ity that the rest of the songs on the album will be utter
unlisten­able shit of the very highest order but based on the six tracks
we heard plus the two already in cir­cu­la­tion we're looking at one of 2010's best pop albums. Hurrah.