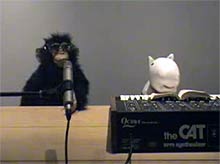 You know who The Sounds are. We wrote about them a couple of months ago.
Do you know who Rex The Dog is? You probably do. He's the one who turns all the Knife singles into pop songs and makes some quite good pop tunes of his own. (Here are some people dancing to his reswizzle of 'Marble House'.)
Well Rex The Dog has mixed The Sounds' 'Tony The Beat'. It was very good to start with and now it is literally the most amazing thing of all time.
Once he'd finished remixing the song, Rex made a video for it with his friend Punk Monkey.
This is it.
The strobe! The dry ice! The banana fight! It's like Popjustice HQ on a Tuesday morning.
More things:

» A video on Rex's website which frankly makes us want to break open the poppers.
» Some news about Rex's album which will be AMAZING.
» A down­load­able minimix Rex did for Britain's Favourite Radio One.
» The song Rex recorded when he was eight years old and went on to keep Dave Pearce's Dance Anthems afloat for two decades.
» The Sounds' very listen­able official MySpace.