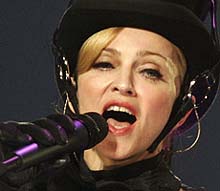 :: Despite now being as English as ale pie and having shot everything alive on her Westcountry estate, Madonna is under the impres­sion that Britain has only one city, although she has not specified which. Smart money is on St Helens.
:: Justin Timberlake has offi­cially split up with his actress girl­friend, probably after seeing all those pictures of Britney and realising what he was missing. COME ON YOU TWO SORT IT OUT.
:: Sarah Harding is spending a lot of time with Heidi and Amelle Sugababe having 'girlie nights'. Whatever that may involve these days for women in their mid twenties.
:: Kelly Osbourne has volun­teered to take all her clothes off for Playboy. She is expecting payment.
:: Britney got paid for her New Year's Eve Las Vegas snooze-a-thon. The best most of us can hope to go home with on New Year's Eve is someone else's coat; Britney was paid over £200,000.
:: Jo O'Meara is no longer the favourite to win Celebrity Big Brother on account of her being a sourfaced old moaner.
:: Kylie is the best dressed woman in the world. Britney is the worst. Kylie has also had a new waxwork made at Madame Tussaud's because the old one had its arse rubbed away by all the visitors. Which reminds us of some people we know, but that's a different story…
And there you have it.