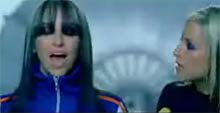 The new All Saints video is online now — you can watch it at this bit of the internet.
We are not sure what is happening in the grab to the right but it certainly has something of the "what's that you're saying — we're about to get dropped?" about it.
The video itself is a cross between the sort of video you might expect fifteen-year-olds to make crossed with that Pet Shop Boys one with the lesbian drummers at the airport.
We quite like the song and the Kissy Sell Out mixes are stupidly brilliant, but at the same time you have to admire the 'spunk' of a record label who sign an act who his­tor­ic­ally only sold albums on the back of ballads, choose to relaunch them with an upbeat single, watch the campaign fall apart when the album's released and then — THEN! — release another non-ballad.
Heads will roll! Oh they already have etc etc etc.