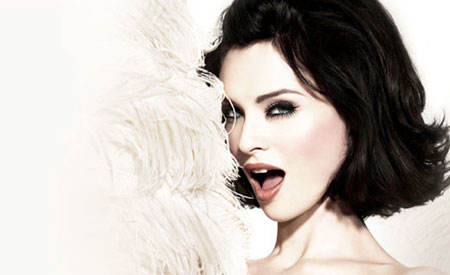 Sophie Ellis-Bextor is supremely brilliant and that is all there is to say on the matter.
Apart from the fact that her new album — the one she was banging on about when we inter­viewed her last summer — is finally nearing release.
From a new post on her recently-relaunched website:
Hello everyone,
Hello Sophie.
so here you are at my new website. I hope you like it. I find this site a wonderful way for us to keep in touch.
This will be the first and official place to find out all the latest news for all things SE‑B shaped. It was time for a new look. It'll go nicely with the new album which is nearly done.
The first single is released early April. It's called `Bittersweet' and with it I have once again col­lab­or­ated with the lovely and very talented Freemasons. It's a good intro­duc­tion to the fourth album because, as with the majority of the record, it's a song you can dance to. The new tracks feature col­lab­or­a­tions with Calvin Harris, Metronomy, Cathy Dennis, Richard X and Ed Harcourt. It's been a lovely exper­i­ence to make this album and I am so looking forward to sharing it with you all.
In the meantime, good to see you here. You're looking really well and I think 2010 is going to be our year.
Sx
GET ON WITH IT.