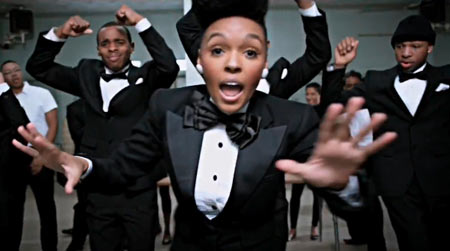 Janelle Monáe is a classic example of an artist who has needed to Literally Get On With It for some time and is now, in fact, Getting On With It Thank You Very Much.
Things went a little quiet after the 2008 release of an EP intended to be the first in a series of five 'Metropolis' releases, but things are kicking back in now with a full album ('The Arch Android') and this mes­mer­ising video, unveiled last week, for lead single 'Tightrope'.
httpv://www.youtube.com/watch?v=pwnefUaKCbc

We went on Wikipedia to see how the whole 'Metropolis' series thing was panning out in relation to the new album. Apparently "the second and third suites of 'Metropolis' will be combined into this full-length release, in which Monáe's alter-ego, Cindi Mayweather — also the prot­ag­on­ist of 'Metropolis: The Chase Suite' will become a messiah-esque figure to the android community of Metropolis".
Which is incred­ibly bad timing because that's also the idea behind the new Hoosiers album.